Reno Craft Beer Week
Take a look at the tap line in your local pub, restaurant, or even favorite casino bar. It is no longer dominated by the industrial monoliths of American lagers, but has become a virtual adventure to be explored and savored one pint glass at a time.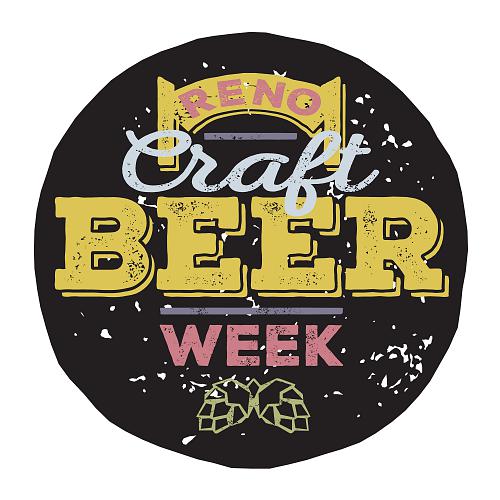 That adventure took a while to take hold in northern Nevada, but we have made up for lost time in recent years with nearly 20 brewers and brew pubs, and a solid cast of craft beer-centric pubs and restaurants that offer local, regional, and national small production, or craft beers.
Reno and the surrounding environs celebrate local beers each spring with Reno Craft Beer Week, now in its third year and set for June 2-10, 2017. Reno Craft Beer Week promotes our area's thriving craft beer culture, enhances beer knowledge, and builds local beer appreciation.
"Reno Craft Beer Week attracts beer tourism, fosters knowledge of our regional brewing heritage, and serves as a showcase for northern Nevada's breweries, restaurants, pubs, retailers, and other businesses with ties to the craft beer community," said Kurt Hoge, Reno Craft Beer Week co-founder and owner of Reno Type.
"Craft beer lovers will have the opportunity to attend events ranging from beer dinners and food pairings, to beer walks and craft beer cocktail tastings," Hoge said. "We hope to make this year's RCBW better than ever with a wider variety of events, both geographically and thematically, throughout the week."
Renocraftbeerweek.com will act as the central hub for activity planning, coordination, and communication for Reno Craft Beer Week. Participating businesses are responsible for planning and hosting their own events.
The week will kick-off with the biggest little home brew competition Backwash on Friday, June 2, and close with the Nevada Craft Brewers Association CollaBREWation Festival in downtown Sparks on Saturday, June 10. The popular Reno Craft Beer Week Brewery Tour is set to return thanks to the new Reno Booze Bus.
Reno Craft beer is a great platform for your beer escape, but how does one take the first step in the great beer adventure?
"Try, try and try," said Chris Shanks, co-owner of The Depot on Fourth Street, the three-year-old restaurant/brewery in a neighborhood that is striving to brand itself as the Brewery District. "The craft beer industry is introducing styles and ideas that the larger companies simply can't or won't do. I also think people like to discover new things and products that are below the radar. The craft beer industry provides adults with an almost scavenger hunt-like experience."
Most brewpubs, breweries, or tap houses offer a menu of short pours known as tasters. Those in the know pick two to four styles, light to dark. Going through the whole lineup of beers might send your palate over the cliff.
"Sharing a taster makes a great date night. You sit and sample, compare notes, and have a little intelligent conversation around what you are drinking. It's sort of like Match.com, but way better with beer," Hoge said.
Those who are more prone to a beer-less date night may be surprised at the growing popularity of beer as a cocktail ingredient; it's more than just a boilermaker.
"There's a way to turn almost any quality beer into a cocktail," said T. Duncan Mitchell, owner of Chapel Tavern, one the area's early adapters to the craft beer craze. "Things like gose or berliner weisse work well because they carry a good level of acidity into the cocktail. The roast and sweetness of porters and stouts lend themselves to cocktails as well."
One of Mitchell's warm-weather favorites is the Sidewalker, a cocktail created by Brooklyn Prime Meats. It combines apple brandy, apple cider vinegar, maple, and lemon, with Hefeweizen, a German-style wheat beer.
Reno's beer scene is also seeing more food and beer pairing events. The multitude of ingredients in beer as compared to wine, offers a lot of options and surprising variations.
"If you're going to have a bright, crisp pilsner with your fish and chips, you haven't made the wrong decision. Seldom have I found a beer and food pairing that makes one or both taste bad," said Cameron Kelly, head brewer for Great Basin Brewing Co. "The same general concepts for wine pairings translate very well to beer. You probably don't want to drink a 13 percent alcohol Russian Imperial Stout, like our 412 Scytale Barrel-Aged Imperial Stout, with a citrus salad. IPAs love spicy food (they will taste a bit spicier), ambers pair well with nutty cheeses and fruit desserts, stouts stand up to barbeque and chocolate-rich desserts."
Northern Nevada's beer future is bright, and it's not only because we have a young and aggressive core of new brewers, but because we like eclectic, iconoclastic beers, evidenced by the rapid growth of Reno Craft Beer Week from 40 to more than 70 events.
To keep track of this year's beer bacchanal and find a link to Peppermill's special RCBW room rates and packages, log on to www.renocraftbeerweek.com.