Where Snowshoeing Meets Snowbirds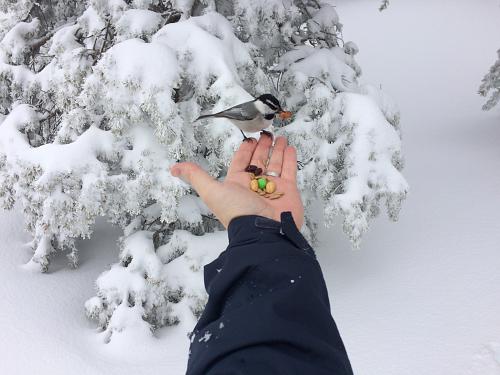 There's no shortage of beautiful splendor in Lake Tahoe's wilderness. Between the soaring pines, fresh mountain air, and breathtaking views, it's a legendary destination where the most enchanting memories are made. A truly magical moment awaits off the beaten path, though, and only one special ingredient is needed to unlock a one-of-a-kind experience: bird seed.
You won't find a dedicated trail guiding you to Chickadee Ridge, but the short jaunt – less than 2 miles each way – into the woods will be well worth it. Here, the mountain chickadees are abundant, filling the air with a distinct three-note call that sounds oddly like the word "cheeseburger" (which is how the nickname "cheeseburger bird" was earned). The closer you get to the top of the ridge overlooking Lake Tahoe, the more chickadees will appear. With some bird-friendly treats strategically placed, it's almost certain that the members of the winged welcoming committee will perch on your hand, arm, shoulder, or even head for a snack – and a seriously Instagram-worthy photo op. If you don't feel comfortable feeding wildlife, which is typically not encouraged, know that the chickadees here are so used to human visitors that they flit about as if they were expecting you. Get ready to make feathered friends no matter what.
This trip can be made in any season, but it's especially awe-inspiring when done in the winter. A layer of snow means snowshoes will be required, but the powdery wonderland is part of the fun – and again, think of the photos! Many places in the Reno-Tahoe region will rent you snowshoes if you are new to the activity, too. Just make sure you don't blaze your way through the wilderness unprepared. Do your own research before hiking Chickadee Ridge, as there's no shortage of tips that maximize fun and minimize risk.
To get to Chickadee Ridge, drive less than an hour outside of Reno toward Tahoe Meadows on Mt. Rose Highway (Highway 431). You'll find a parking area opposite a popular sledding hill. From the trailhead, start walking the boardwalk through the meadow, following signs toward the Tahoe Rim Trail. Enter the forest and walk on this trail for about 1.5 miles, then continue until you reach directional signage pointing out Meadow Loop and Ophir Creek trails. At this point, head southwest toward the top of the ridge line. Once Lake Tahoe becomes visible, you've arrived.
Our Insider Tips
Friendly dogs are welcome at Chickadee Ridge, but you'll know best if your furry friend's antics might scare away the birds. You'll also want to protect their paws from the elements!
Heavy snowfall can cover trail signage, making pre-trip research extra important.
While Tahoe Meadows is a popular area, it's always recommended to practice back country safety. Bring plenty of water, stay aware of your surroundings, outfit yourself in the proper gear, and let someone know where you're going.
Pack a thermos of hot chocolate to enjoy amongst the chickadees!