Indoor Activities in Reno
When the weather outside is frightful, an action-packed list of indoor activities will make things much more delightful. Skip the snow and find thrill-seeking fun inside with escape rooms, trampoline parks, bocce ball, and go-kart racing.
Escape rooms are fun, yet challenging activities where groups are locked in themed rooms and given 60 minutes to decipher clues and puzzles that will lead to their release. The goal is to solve the mystery or find the solution as quickly as possible by working together as a team.
Break Through Reno (294 E. Moana Lane, Suite 13, Reno) has games designed for three to six people. You have 60 minutes to solve mysteries by using hints and clues from around the room to escape. Choose from games like "Betrayal at High Noon," and try your best to escape the jail cell you've been locked in while also locating the gangster who imprisoned you. Children 14 and younger are welcome to participate with a guardian or explore "The Witch in the Wild West," an adventure created for players between the ages of 4-12.
The Puzzle Room (135 N. Sierra Street, Suite B, Reno) located in downtown Reno offers four different escape room themes, as well as a private events room. Start out with an easier puzzle like "The Valley of the Kings," where you are tasked with working your way to the heart of the pyramid before becoming cursed, or try the more difficult "Below Ground," where you must diffuse an underground bomb to save the nearby city.
Key and Code (1420 Scheels Drive, Suite E-108, Sparks) is the area's newest escape room, which offers a thrilling team experience as you work together to solve the puzzle and escape. The venue's most popular room, "Dr. Ensaine," has your team break into a suspicious dentist's office where patients enter and don't exit. You have 60 minutes until he returns.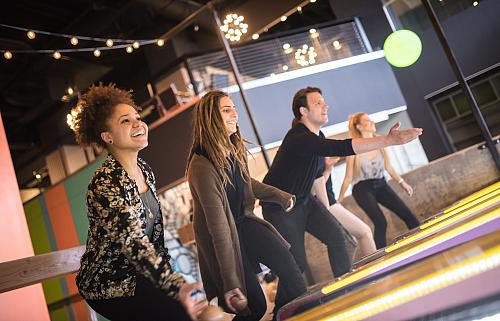 Bundox Bocce (1 Lake Street, Reno), Northern Nevada's only indoor/outdoor bocce event space, recently opened in the newly renovated Renaissance Reno Downtown Hotel. The 22,000-square-foot facility features seven indoor bocce courts, two outdoor bocce courts, nine Skee-Ball machines, a shuffleboard table, ping pong, dart boards, and a full bar with unique menu items, as well as plenty of comfortable seating throughout. If that's not enough, Bundox Bocce also has eight big screen TVs, large format projection, outdoor patio seating, and two private event rooms, one complete with a private bar.
For those new to the sport, which originated in Europe and has amassed a loyal following stateside, simplicity is key. In some ways similar to shuffleboard, bocce is an ideal group activity. Two teams of one to six people can play on a court at one time with a bocce set consisting of eight large balls and one smaller target ball called the pallino. The team with the most balls closest to the pallino scores, with one point awarded for every ball the scoring team has closer than the opposing team. The game continues until 12 points, or a pre-determined number, is reached. Bundox Bocce can accommodate 72 players at once.
Trampoline parks are the perfect way to get your heart rate up and get some energy out when it's cold outside. EZAIR (895 E. Patriot Boulevard, Reno) is an indoor trampoline park and laser tag arena, with activities for all ages. With multiple trampolines, there are places for children to jump as well as advanced areas for more seasoned jumpers. If you're looking for a spot to perfect your aerial maneuvers, the EZ Launch area allows jumpers a place to land safely in an airbag. Those who enjoy monkeying around can try the park's new EZ CLIMB walls, equipped with auto belay so no one needs to assist with the climbing process. Groups can dodge, duck, dip, dive, and dodge in EZ DODGE trampoline dodgeball games, or even face-off in an EZ BATTLE jousting arena. Last but not least, EZAIR's indoor laser tag arena offers 3,800 square feet of fun where you can use state-of-the-art LaserBlast equipment to compete in the black-lit, space-themed arena, complete with special effects, lasers, and fog.
Fly High Trampoline Park (10 Greg Street, Unit 104, Sparks) will accommodate everyone from beginning bouncers to seasoned, technical jumpers. Try your latest tricks in this new, state-of-the art facility, and practice sticking your landings in the foam pit. Looking to do more than just jump? Engage in a game of trampoline basketball or take over one of the designated dodgeball courts for more fun.
Open seven days a week, Need 2 Speed (6895-B Sierra Center Parkway, Reno) offers the ultimate indoor racing experience.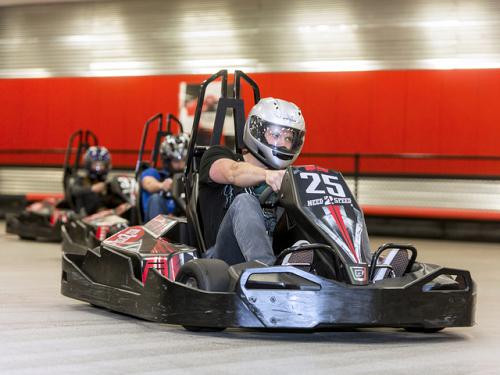 Rev your engines and enjoy adrenaline-pumping fun as you race in a 45 mph high-performance electric kart for 14 laps or the time equivalent. The Need 2 Speed track uses the safest barrier system available, made to absorb impact and provide excellent visibility for drivers. Youth racing also is available for racers at least 48-inches tall with a signed waiver from a parent or legal guardian. For an even bigger thrill, check out under-lit black light racing fun on weekends from 5 p.m. to close, where the lights are out and the track is lit by neon. End your racing experience with a round of one-of-a-kind black light mini golf.