Eat Like a Local: New Restaurants
Reno is home to a growing foodie scene, with new restaurants, cafes, and eateries opening around the city on a regular basis. The cuisine is as diverse as the folks who call the Biggest Little City home, ranging from reimagined American favorites to flavors originating halfway around the world. New to town are Feast, Calafuria and Kauboi Izakaya, each playing a part in boosting Reno's dining reputation.
Feast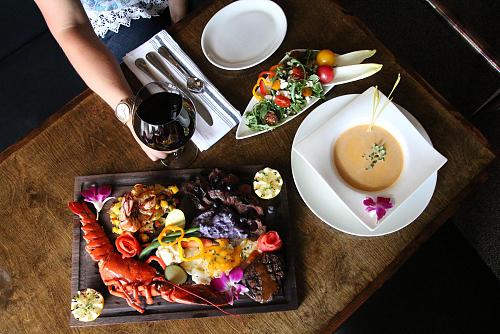 Opened in November 2015, Feast fills a niche for accessible fine dining in the neighborhood where downtown Reno and Midtown meet. The restaurant's exterior is adorned with minimal signage amongst its wall of windows, but step inside the bright red front door and you will be welcomed into an intimate atmosphere boasting rich wood tables, cozy seating and handcrafted artwork. Dedicated to serving classic American dishes with modern twists, one glimpse at the menu and it will be easy to see why Feast has quickly become a local favorite.
Meat and seafood are the stars of the show at Feast, expertly prepared to let inherent flavors shine. For lunch, diners can devour a lobster roll dressed in a house-made Louis sauce with avocado, wild boar salad featuring a mixed berry teriyaki dressing, and half-pound house burger made of a chuck and short rib blend of meat. The dinner menu presents an impressive array of exotic meats – including ostrich and kangaroo – alongside steakhouse staples such as prime ribeye and filet mignon. The seafood options are equally tempting, with selections like teriyaki swordfish, steelhead trout piccata, and Feast's take on a pan roast. These dishes are just some of Feast's most popular items, as the menus are ever-changing to incorporate seasonal items procured from local sources.
Only one thing rivals the quality and flavor at Feast, and that is the artful plating of the dishes. A quick scan of social media will reveal hundreds of photos of exquisitely prepared entrées that are almost too beautiful to eat, each purposefully styled with sauces, garnishes, and herbs. Do dive into the meal once it arrives, though, as your first bite at Feast certainly will not be your last.
Feast is located at 516 S. Virginia Street in Reno, and is open for lunch Monday through Friday from 11 a.m. to 2 p.m., happy hour Monday through Friday from 4 p.m. to 6 p.m., and dinner seven days a week starting at 5 p.m.
Calafuria
Named after a coastal region near the Italian town of Livorno, Calafuria dedicates itself to bringing modern Tuscan cuisine to Reno. Chef and owner Timothy Magee spent more than a decade living and cooking across Italy before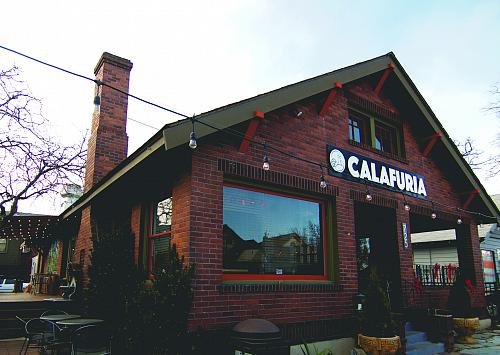 returning to his hometown, bringing authentic recipes and inspired creations with him. Nestled in a Midtown neighborhood comprised of mixed-use bungalows and opened in March 2016, this charming restaurant is considered by many to be a hidden gem.
Calafuria serves aperitivo and dinner menus, the former being focused on small plates and specialty cocktails meant to start your meal. Begin your dining experience with a Calafuria Spritz, composed of sparkling rosé, white vermouth, and orange bitters, or try the Faux-jito, which combines fresh mint and lime with brown sugar and white wine. Aperitivo snacks include housemade breads and chips, spicy orange-marinated olives, and tagliere, a platter of Italian meats and cheeses. This menu is served exclusively in the first hour Calafuria is open, encouraging diners to partake in the Italian tradition of building their hunger over the course of several plates.
Dinner service, beginning at 5:30 p.m., allows guests the choice between a tasting menu or à la carte options, and the decision will not be an easy one. No matter how guests choose to dine, both highlight dishes that Calafuria does best. The Livornese-style Fried Baccala is a signature option, featuring salted cod in a hearty stew that is prepared just how the Italian locals love it. Tagliatelle with beef ragu, butternut squash ravioli in a sage and prosciutto broth, and gnocchi served with almond pesto and roasted tomatoes stand out as well, made even better with the use of house-made pasta. With items this good on the menu, it is no wonder so many return to Calafuria quickly, and often.
Calafuria is located at 725 S. Center Street, and is open Tuesday through Saturday from 4:30 p.m. to 9 p.m..
Kauboi Izakaya
Kauboi Izakaya may sound intimidating, but this new Midtown hot spot that opened in June 2016 is anything but. An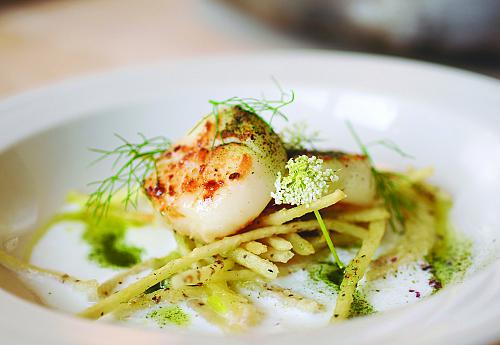 izakaya is an informal Japanese restaurant styled after a tavern or pub, with the Japanese word for "cowboy" attached to further hint at the experience that awaits. Enter the small but lively space and you'll be greeted with pops of bright red color, hand-illustrated placemats that double as menus and bar seating with chair clips for cowboy hats. Make no mistake, though, as this welcoming eatery serves up some seriously fine dining.
The menu is grouped into eight categories, each offering small plates meant to be shared or enjoyed over the course of the evening. Selections range from dumplings, tempura and ramen to yakitori, kushiyaki and final dishes that pique curiosity. The giant squid with togarashi and yuzo mayo is a fan favorite, both for its clean, bold flavor and social media-worthy presentation. You will also hear others rave over the hamachi served atop Asian pear with ponzu gel, as well as the crisp pork cutlet accompanied by bulldog sauce and the chicken soup gyoza paired with a miso dipping sauce. Those looking for adventure may wish to order the chicken heart yakitori. Final dishes, meant to be ordered near the end of the meal, include battleship curry with fries and cheese curds and wicked fried rice topped with duck cracklins and a duck egg. All will arrive beautifully plated and leave you wanting more.
As it is currently a one-of-a-kind restaurant in Reno, Kauboi Izakaya declines reservations in favor of serving guests on a first-come, first-served basis. The space seats roughly 40, so arrive early and let passing dishes ready your appetite. Any wait will be well worth it.
Kauboi Izakaya is located at 1286 S. Virginia Street, and is open Tuesday through Saturday from 5 p.m. to 10 p.m.