April 2019's Top 15 Things to Do in Reno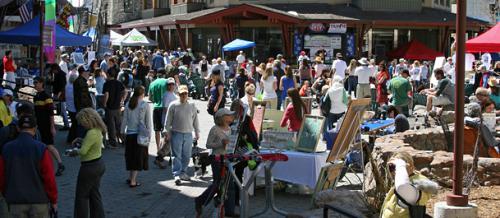 Spring is in full swing and we can't wait to celebrate the warmer weather. With marathons, beer contests, ballet performances, and more, your calendar is bound to be fully booked for the month of April.
First Tuesday Donut Pairing-Mellow Fellow Pub presents a mouthwatering experience with their First Tuesday Donut Pairings. On April 2, indulge in the unique and savory creations of Holy Schmidt Donuts and wash it all down with a carefully chosen brew. This event is the perfect marriage between two of our favorite treats.
Downtown River Run Marathon-Voted Nevada's Top marathon and Top 50 in America by Trip Advisor, the Downtown River Run Marathon starts under the Reno Arch and takes runners on a scenic route along the Truckee River before returning to the city. With multiple distance options and a post-race expo filled with free food, beverages, and snacks, we can understand why this run is the talk of the town.
Best of Tahoe Craft Beer Contest-Come one beer connoisseur, come all! The Best of Tahoe Craft Beer Contest features light, dark, and IPA cold ones from Lake Tahoe breweries. The title of best beer will be chosen by event-goers through a blind taste test. Decide which brew deserves bragging rights on April 7.
Baby Animal Days at Andelin Family Farm-There is little in this world that compares to the joy one gets from holding a baby animal. Andelin Family Farm is making our dreams come true every Thursday, Friday, and Saturday for the last three weeks of April. Hold and pet chicks, interact with goats and calves, and go gaga over ducklings, bunnies, and piglets.
Brew, Brats & Ballet- This is not your average night at the ballet. Have your taste of beers, sausages, and Sierra Nevada Ballet choreographic offerings. As you watch the performances, discuss with the individual choreographers and feel like the ultimate insider. Tickets start at $20 and include food and first beverage. Sashay to Reno Little Theater on April 6-7.
Big Chefs Big Gala-Coined the Food Lover's Event of the Year, Big Chefs Big Gala presents delectable hors d'oeuvres and cocktails followed by a one-of-a-kind, four-course meal. The evening ends with a thrilling live auction benefiting the Big Brothers and Big Sisters of Nevada. Don't miss out on a night to remember happening on April 13.
Alice in Wonderland-The A.V.A Ballet Theatre and Reno Philharmonic Orchestra present a mesmerizing rendition of the classic ballet, Alice in Wonderland, at the Pioneer Center for Performing Arts. Join Alice on her captivating journey while enjoying skilled choreography and a beautiful score on April 13-14.
Cheese and Local Wine Pairing-This isn't your average slice of cheese and vino! On April 18, enjoy local wines perfectly paired with savory cheeses at Nevada Sunset Winery. Learn how to make the most out of your pairings from the Certified Cheese Professional herself, Queen Brie.
Earth Day at the Village at Squaw Valley-Celebrate our planet at one of the largest Earth Day celebrations in the area. Enjoy live music, dance presentations, educational booths, and Tahoe's very own Envirolution Trashion Show on April 20.
Easter Bonnet & Pet Parade- Celebrate springtime in Virginia City at the Easter Bonnet and Pet Parade on April 20. Your pooch deserves a day in the spotlight, and with your fashionable pup at your side, you'll have to dress for the occasion as well. Don your best bonnet and take a stroll in the old mining town.
Peppermill Easter Dining-You don't have to hunt to find delicious dining options on Easter. Special dining menus are available at Biscotti's, Island Buffet, Oceano, Bimini, Café Milano, and Romanza. Whether you're looking to dine for breakfast, lunch, or dinner, we have you covered.
Reno Jazz Festival- Since 1962, the Reno Jazz Festival has invited all to play, listen, and learn. Performances range from solo artists to large ensembles, and provide a wide variety of musical styles. Festival goers can enjoy public performances by world-renowned musicians from across North America, Australia, Asia, and Europe, and musicians can sharpen their skills in a multitude of workshops. Experience the festival that truly is "All that Jazz," on April 25-27.
Genoa Western Heritage Day-Spend April 26-28 honoring the oldest permanent settlement in Nevada and home to the oldest thirst parlor. This celebration kicks off with an opening concert at the Genoa Town Hall. On Saturday, attendees can enjoy Native American demonstrations, music and entertainment, Chautauqua performances, delicious food, and more!
The Crucible- Brüka Theater presents Arthur Miller's "The Crucible" for their 26th Season: A Classic Revolution. On April 26-27, delve into the riveting tale of what happens when a society loses their humanity in order to save themselves.
Virginia City Grand Prix- Virginia City Grand Prix, one of the largest off-road motorcycle races in the west, brings more than 1,000 competitors to the Comstock to race for first place. This four-mile trek begins in Virginia City and then turns through the surrounding rocky hills with riders going upwards of ninety miles per hour. Don't miss this rambunctious ride on April 27-28.