Drink Like a Local: Winter Cocktails in Reno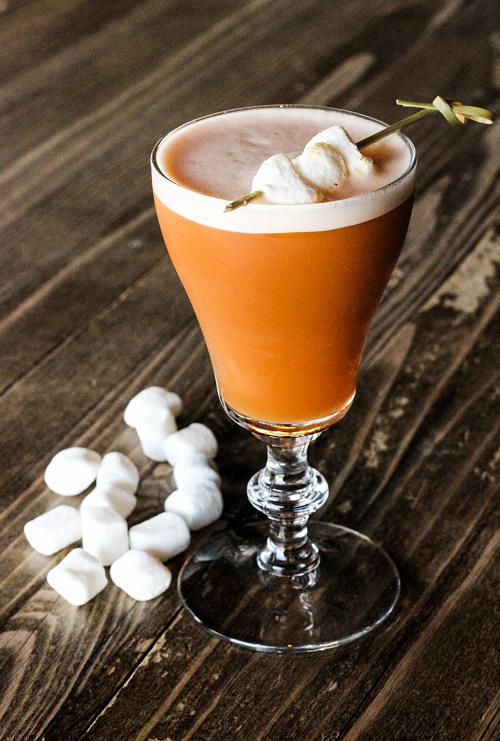 Nothing complements snow-capped mountains and crisp winter air better than a glass of something special to imbibe.
During the winter months, almost all bars in the Reno-Tahoe region offer a limited-edition drink menu filled with warm cinnamon notes, tart cranberry flavors, spicy sage whiffs, and more to leave the palette satisfied.
The thought of bundling up and trudging outside in the cold may be tough, but thankfully, you won't have to travel far from the comfort of your room. Unleash your inner sommelier at Peppermill Reno's Terrace Lounge or travel a few blocks to experience Chapel Tavern or Death & Taxes located in Midtown Reno. Cozy up at some of these local winter watering holes. Cheers!
Chapel Tavern
Find salvation this winter at Chapel Tavern. Located in Midtown, the industrial-style bar creates a unique experience where drink is their religion.
Opened in 2007 by T. Duncan Mitchell, a native Nevadan, the bar exemplifies tradition and innovation. The full bar's selections are ever-evolving and continually expanding to include rarities and specialty items, perfectly picked for every drink. No matter what your guilty pleasure is, or if you're looking to try something new, Chapel's friendly, talented bartenders are ready to assist you in your boozy journey.
When it's cold outside, pick from a variety of classic hot drinks like Hot Buttered Rum and Mulled Cider or treat your taste buds to Café Bravado, a cognac drink with fernet, chartreuse, cinnamon, Magpie Coffee Roasters' coffee, cream, and nutmeg. If tequila is your calling, try El Chapo, a mixture of añejo tequila, coffee, dark brown sugar, and spicy chilies.
Other seasonal selections range from the Barrel Aged Boulevardier, a warm bourbon whiskey served over hand-cut ice, to The Pilgrim, a navy-strength rum served with orange, sweet potato, and marshmallow. A local favorite holiday drink – and Mitchell's go-to – is the house-made Aged Nog. The drink is a blend of local eggs and cream plus spices, bourbon, and cognac, then cellared until ready to serve. There's a reason why it's the bar's biggest seller year after year.
Indecisive? Just ask the team to make you a drink. Feeling a tequila night? Or maybe it's a try-something-new kind of day? Without hesitation, the bartenders will almost undoubtedly get on the ladder to peruse the floor-to-ceiling selection to find the perfect drink for you.
Chapel Tavern is located at 1099 South Virginia Street in Reno, and is open Monday through Friday 2 p.m. to close, and Saturday and Sunday 10 a.m. to close.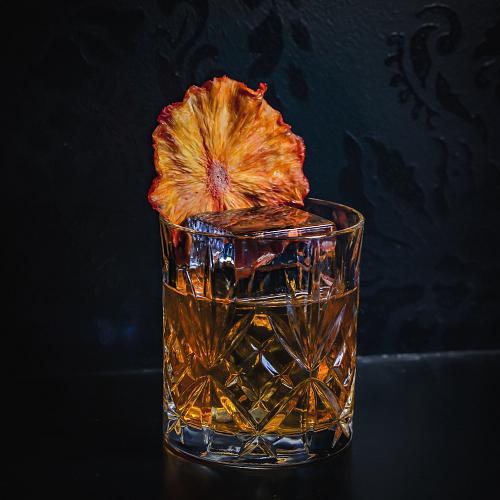 Death & Taxes
Fresh, seasonal ingredients rule every cocktail at this classy lounge.
Established in 2013 by team Ivan Fontana and Sadie Bonnette, Death & Taxes has become a mecca of infusion, often making classic drinks with a unique twist. Each artisanal cocktail has elaborate ingredients and house-made syrups, garnished to perfection.
Dark and stormy winter weather often calls for a dark and delicious drink. Venture into the bourbon world and try The Black Gates, a deep drink with Gunpowder Bourbon, scotch, Drambuie, lemon, and green cardamom syrup. If you need a reminder of the warm summer days, sip on a Dead & Lovely – a mixture of toasted coconut bourbon, dark rum, vanilla, pineapple, lemon, and mango syrup.
Whatever you drink, you'll find it here. Go for a classic Gin & Tonic – with plenty of variations on the menu – or try Death & Taxes Old Fashioned with toasted coconut Henry McKenna 10 Year, five-spice demerara syrup, and the bar's own tobacco bitters that your palette craves.
Beyond the cocktail menu and Spirits Bible, Death & Taxes offers classes tailor-made for your group. Test out your bartending skills, learn all you can about tequila and mescal or bourbon, how to batch cocktails, and more. Take your newly learned knowledge to the test and bring home some hand-selected bottles from the Death & Taxes Bottle Shop to make your own.
Death & Taxes is located at 26 Cheney Street in Reno, and is open Sunday from 5 p.m. to 11 p.m., Monday through Thursday from 2 p.m. to midnight, and Friday and Saturday from 2 p.m. to 1 a.m.
Terrace Lounge
All we want for Christmas is a glass of deliciousness, found tucked inside the Peppermill Reno. Step out of the cold and into the Terrace Lounge.
Craft cocktails, views of the Peppermill gardens and pools, and nightly live music make this spot the place to be. Grab a seat on one of the plush couches and sip the night away with award-winning wines, exclusive whiskeys, or one of these seasonal drinks made with locally-sourced ingredients.
Sweet notes and tart, fresh blends create perfect cocktails to warm you from the inside out. Test out a twist on a Manhattan with the Winter Wonderland, or if you prefer drinks on the rocks, taste a Santa Baby where a citrus-forward Brooklyn Gin gets a tart kick from cranberry syrup and a touch of mint. Go ahead and entice your palette with a gingerbread Old Fashioned named All I Want for Christmas – the warm flavors of a traditional gingerbread cookie meets spicy Clyde May's Rye Whiskey, garnished with a fresh gingerbread man from the Peppermill bakery.
Feeling a little lucky? During the Lunar New Year, oranges and mandarins are given for good luck, with the color red symbolizing good fortune and joy. At Terrace Lounge, order a Lucky Star made with Casamigos Blanco, a fresh citrus blend of blood orange, lime, and lemon, topped with Jarritos Mandarin soda, creating a lucky paloma.
If you're looking for a sweeter adventure, order a Mele Kalikimaka – a Hawaiian getaway in a glass – made with Kona Cold Brew Coffee, coconut cream, and Buffalo Trace Bourbon Blend. Take a sip of a Let It Snow – a reimagined piece of peppermint bark. Housemade peppermint cream, Godiva White Chocolate Liqueur, and Absolut Elyx Vodka combine in a dark Ghirardelli Chocolate swirled glass to create a sweet sip.
If it all sounds too good, let the professionals decide. All you have to do is pick the spirit and flavors you enjoy, and the mixologists will handle the rest.
Terrace Lounge is located inside the Peppermill Reno, and is open Sunday through Thursday noon to 11:30 p.m., and Friday and Saturday noon to 1 a.m.