Happy Earth Day
Earth Day is technically just one day, but don't let that stop you from being "green"' today and every day after. See how The Peppermill celebrates Earth Day every day and how you can too!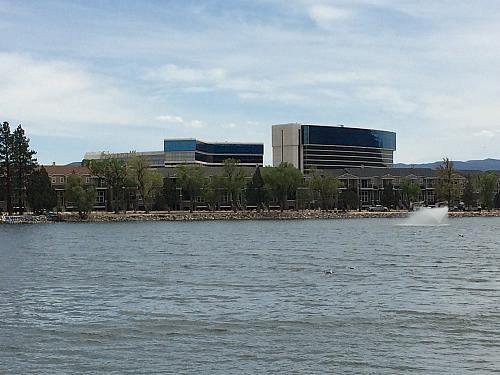 This January, the American Lung Association honored The Peppermill for establishing a leading clean and healthy air initiative. Our newly developed clean air program removes 123,400 cubic feet per minute (CFM) of air from the casino floor through a leading energy recovery ventilation (ERV) system.
You too can create eco-friendly clean air by placing houseplants around your home. Plants literally help you breathe better by absorbing carbon dioxide and releasing clean oxygen back into your home's atmosphere. According to a study done by NASA, certain plants are better at "air purification" than others. For example:
Golden Pathos
Peace Lily
Boston Fern
Spider Plants
We may have survived last year's drought, and a great summer is headed our way this year but that doesn't mean we should throw water preservation initiatives out the window, so to speak. The Peppermill saves water with preservation projects such as laundry water reclamation and conservation programs that save the local environment over 5 million gallons of wasted water each year. The resort is also the only property in the nation to have an on-site geothermal system, which provides enough geothermal energy to heat all domestic and mechanical water on property.
In addition to these water saving programs, The Peppermill also only gives water in our restaurants to those who ask for it saving many little helpless drops of the Truckee from slipping down the drain. At home you can save water by:
Only running your dishwasher or laundry machine once it is completely full.
Turning off your faucets between brushing your teeth.
Water your lawn every other day and in the early morning to illuminate water evaporation
Limiting shower time to 15 minutes
Fix your leaks
Invest in a low-flow, eco-friendly toilet
Last year, The Peppermill installed Tesla Connector charging stations as part of our on-going efforts to become the leading sustainable resort in Northern Nevada. You can become a sustainable home by utilizing one of the following during your daily commute:
Carpool to work or the grocery store with friends and neighbors.
Utilize Reno's local bus system for easy commutes.
Walk when possible. Not only will you save our environment, but you will also get some exercise and take in that great fresh air!
Ride your bike to work if possible.
Have other great ways to go green? Post them below and don't forget Reno's Earth Day celebration this Sunday, April 24 in Idlewild Park.