Meet the Team - Greta Langford
Meet the Team:
Greta Langford – Salon Lead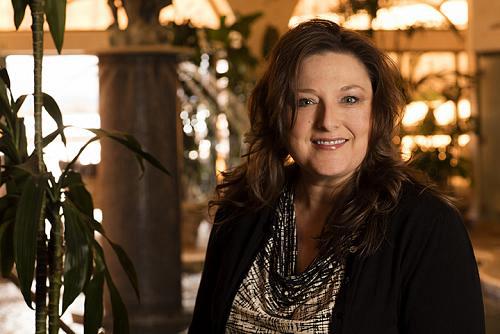 Reno's premier place to relax in style is Spa Toscana. Offering guests a luxurious relaxation experience, Spa Toscana has been recognized with numerous awards, including several SpaFinder Wellness Awards. The spa credits its skilled and dedicated team members who constantly redefine and help set the bar for a superior spa experience.

We sat down with Greta Langford, salon lead, to get a behind-the-scenes look at Spa Toscana and some of her favorite things about Reno.

What makes being a part of the Spa Toscana team so special?

It was kind of like fate working for the Peppermill. When I first moved here 40 years ago as a child, the very first place my family came to was the Peppermill for breakfast, so I have been coming here for almost my entire life. After I entered the work force, I was taken on by the Peppermill as a nail technician and promoted shortly after as the salon lead. I've now been here for four and a half years and it's been a great experience. They treat their team members like family here, and some days it doesn't even feel like I'm at work.
What is your personal favorite Spa Toscana treatment and product and why?

As far as treatments go, I love the Ultimate Oxygen Facial. This facial is especially useful in this climate, as it hydrates the skin after a day out in the dry Nevada air.

My favorite products that Spa Toscana offers include the Rhonda Allison skincare line because it smells so good and only uses fresh and natural ingredients. I also love Pure Fiji Nourishing Exotic Oil, which can be used as a massage oil, daily moisturizer and bath oil. I think it's the perfect product to use right after a shower.
What are your go-to food and drink choices at the Peppermill?

One of my favorite entrees at the Peppermill is the Salmon Sauté, served at Romanza. It is so fresh, and you can just tell that a lot of passion and understanding goes into making this dish. My favorite drink is The Scorpion, a Fireside Lounge classic. Just like visiting the Fireside is a must when staying at the Peppermill, so is trying The Scorpion.
What is your favorite thing to do on your days off?

My family moved here partially because of the location to Lake Tahoe. If I'm not enjoying company with my friends or family, I'm hiking and exploring Tahoe. I also consider myself a foodie, and love that there are so many fresh, unique and innovative places to eat in Reno. You'll never get bored going out to eat because you can experience dishes from anywhere in the world right in the Biggest Little City.

What makes Reno a great place to live and explore?

Reno is feeling bigger than it ever was before. The city is exploding with culture with everything from restaurants, to art, to local events. There is always something to see and do in Reno, and I love seeing it constantly evolve.