October 2019's Top 15 Things to Do in Reno
Join us in Reno-Tahoe for the start of the beautiful autumn season, and stick around for some chills and thrills as the month goes on. Adults of all ages will enjoy Off Beat Music Festival, various food festivals, and a lengthy list of Halloween frights. Kids are never left out, as Reno-Tahoe boasts a variety of fall festivals, each with activities ranging from up-close wildlife encounters to pumpkin racing, so be sure to bring the whole family, this October!
Calling all ghosts and ghouls! Recognized as one of the three most haunted towns in the US, Virginia City boasts an incredible Hauntober line-up. From the first day of October through the last, head to this old mining town for a chilling good time. Some of the events to come this month include cemetery ghost tours, pumpkin patch train rides, and haunted tours of Mackay Mansion (one of the spookiest places on earth). On Halloween only, the gates to ancient Virginia City Cemetery open, and the Goblin Halloween Parade and safe trick-or-treat kick off. Visit Virginia City's website for a full list of events and activities.
Every Thursday-Saturday throughout October, the brave can venture to Greater Nevada Field for Reno's largest haunted attraction; Slaughterhouse is returning for its 14th year, and promises to bring the scares. Enter the terrifying catacombs beneath the ballpark, if you dare. For 2019, Fright Fest has revamped the layout for all new twists, added the Terror Train, and have trained their actors do you give you the fright of your life. Fright Fest has also newly added the Laughter House for younger kids wanting to participate in the Halloween treats, without all the tricks.
Off Beat Music Festival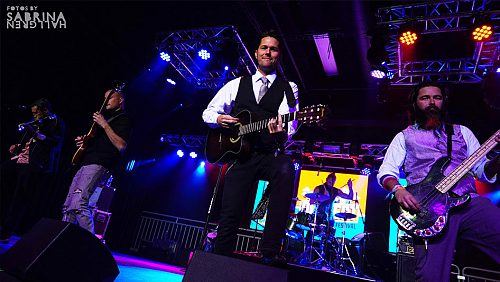 For the chance to hear new and upcoming bands before they take off and play to sold-out arenas, check out Off Beat Music Festival, October 3-5 in Midtown Reno. Enjoy over 100 performances and discover the best homegrown artists, making your way through what has been described as a "music crawl." Off Beat offers you the opportunity to experience intimate performances with incredible talent, in unique, lesser known venues and areas. This event is one-of-a-kind in the music festival industry, and is quickly becoming a Reno must-do.
"Harvey is the story of Elwood P. Dowd, a friendly man with a very strange best friend—a six-foot, three-and-one-half-inch invisible rabbit named Harvey. Elwood's sister tries to have him committed at the sanatorium but Elwood and Harvey have other plans." Written by Mary Chase in 1944, Harvey is a Pulitzer Prize-winning comedy, being brought to life again October 4-20 at the Reno Little Theater. Take a break from the scares of October and catch a performance of Harvey for a good belly-laugh.
World Championship Outhouse Races
The outlawing of outdoor plumbing in Virginia City can be thanked for this insane, hilarious tradition. When outhouses were made illegal, angry residents took their outhouses to the streets in protest. Today, the protest has become a main street event where potty humor is both accepted and encouraged. The Parade of Outhouses begins Saturday, October 5 at noon, and the races begin immediately after. Wildly creative homemade and hand-decorated outhouses race down C Street toward the toilet paper finish line. For 30 years, teams have been competing for the (porcelain) throne, so don't miss the hilarity that is the Virginia City Outhouse Races.
After a successful first year, Southern Fare on the Square returns to the Nugget, October 5-6! Enjoy some down home cookin' and Southern hospitality all weekend long at this free street festival. Just a sampling of the southern fare to come includes fried chicken, crawfish, jambalaya, alligator, catfish, and pecan pie, all followed by cool brews or sweet tea. Live music, crafts, and kid-friendly activities all accompany this event, when the South meets the West Coast.
Camp Richardson's Oktoberfest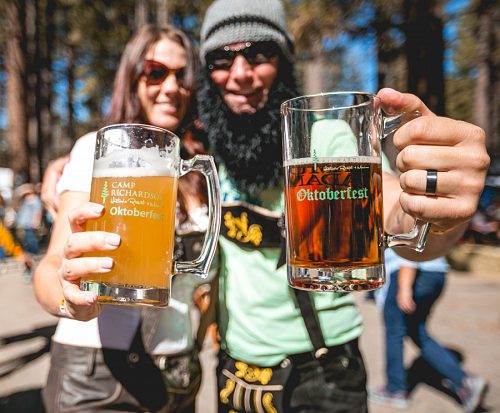 Prost! Cheers to South Lake Tahoe's Oktoberfest, celebrating 25 years at Camp Richardson October 5-6. This year has even more German-inspired delicacies than ever, from IPA-infused bratwurst to a well-stocked beer and wine garden. Of all the Oktoberfests to choose from in the Reno-Tahoe area, Camp Richardson's offers some of the best family fun, including face painting and a bounce castle. The wide variety of entertainment and activities offers something for every member of your group, and the event is free to attend.
24 years later, the Lake Tahoe Marathon+ is still running! No ordinary marathon, this three-day event October 11-13 offers a vast array of different activities for participants ranging from toddlers to ultra-runners. There are 5Ks, 10Ks, half-marathons, full marathons, 72-mile ultras, and more! One thing every run has in common is a stunning view of Lake Tahoe. It's a gorgeous time of year in Reno-Tahoe for outdoor activities of all kinds—and you can't beat the atmosphere—so be sure to register in advance.
Reno-Tahoe's beloved Animal Ark Wildlife Sanctuary will treat its rescued inhabitants to some special fun on the 12th of this month. Bring the whole family to watch some of these amazing animals receive pumpkins filled with their favorite treats! You may be surprised at how much fun the cheetahs, foxes, raccoons, and other animals will have getting a snack out of their new orange playthings. This event is very popular, so reserve your ticket in advance.
Eldorado Great Italian Festival
For one weekend a year, downtown Reno transforms into Little Italy! In addition to sampling authentic Italian cuisine, guests can stroll through a wine walk, enjoy live entertainment, and visit a farmers' market. A fan-favorite event is the sauce cook-off, where Italian families from all over the west coast compete for the bragging rights of having the People's Choice Sauce. You won't want to miss out on the sights, sounds, and flavors of Italy as they take over Reno, October 12-13!
Grand Sierra Beer and Chili Festival
Can you think of a better meal than hot, spicy chili and an ice-cold beer? We didn't think so! The chilly weather of fall calls for October's hottest event, the Beer and Chili Festival. Head over to the Grand Sierra Resort October 19-20 to sample chili from the best chefs in the area, and wash it all down with any of a variety of local craft beers. Entry to the festival is free, and while you feed your tastebuds, you can also enjoy live music and more than 75 craft vendors.
Sunday, October 20 in the heart of Sparks, this year's Pumpkin Palooza celebration kicks off! Named Top Fall Event by Food Network Magazine, this family friendly event offers something for everyone. All proceeds benefit the Northern Nevada Center for Independent Living (NNCIL), the incredible organization that originally founded the event. The NNCIL aims to generate awareness for its mission by igniting the imagination of kids and adults alike, and the Pumpkin Palooza does just that. Enjoy events such as the mummy wrapping contest, family costume parade, and Pumpkin Derby, where participants design their own pumpkin racer.
The 2019 Carson City Nevada Day Parade takes place Saturday, October 26, and celebrates Nevada's heritage. The Nevada Day Parade commemorates Nevada's introduction to the union on October 31, 1864, and it's always a great party. The theme for this year's event aims to honor all 17 counties of Nevada, as 2019 marks our youngest county's 100th birthday! Come to the capital to celebrate Nevada (and the reason Nevadans get work off on Halloween) with 200 parade entries, music and art shows, wonderful food and drink, and much more.
The dead rise to party on October 26 for this creepy bar crawl. Your $10 crawl cup gets you drink specials and free cover at 40+ bars, as well as hotel discounts and admission to a Crawl Capital party with no last call. Killer costumes from years past include Beetlejuice, a T-Rex, and the Avengers, so the cemetery's the limit for spooktacular back-from-the-dead costume ideas. Crack open your coffin, shake off the cobwebs, and make your way downtown for this thrilling monster mash.
This is no average run. Featuring the Brewer's Cabinet Dirty Wookie Imperial Brown Ale, this quirky 10K encourages participants to don their best Wookie costumes before running or walking their way through the course. The race takes place Sunday, October 27, and starts at the Brewer's Cabinet Brewpub. Every Wookie will receive a medal, free downloadable race photos, and a deliciously creamy Dirty Wookie Beer at the end, so may the course be with you!