Top 15 Things to do in Reno
August is always a fun-filled month in the Reno area, so be sure to enjoy the rest of summer with some of the events below. Catch a game, enjoy live music, chow-down on some delicious grub, and more this month in the Biggest Little City!
Lake Tahoe Shakespeare Festival
While the festivities may have kicked off in July, this year's fabulous productions are just heating up! Through the 25th of this month, check out one of Shakespeare's most popular comedies, The Taming of the Shrew, or the Tony-winning Rock n' Roll tribute, Million Dollar Quartet. Additionally, the Showcase Series offers a diverse array of talents worth checking out, from a performance of Fleetwood Mac's greatest hits, to a show from Grammy-nominated trumpeter, Rick Braun. All the events are performed at the amphitheater at Sand Harbor, to the exceptional backdrop of Lake Tahoe.
Free Outdoor Summer Movie Series
Grab some blankets and snacks and head up to this family-friendly event! Every Thursday this month, starting at 8:30pm, you can enjoy a free movie screening in the Events Plaza at The Village at Squaw Valley. Each movie is animated and rated PG, aside from the PG-13 showing of Captain Marvel on August 22, so you and the kids will be sure to have a fun weeknight plan.
With 13 games on the schedule August 1-25, you have to score a ticket to at least one Reno Aces game! The games offer great nightly promotions such as $5 ticket collegiate discounts, $2 Coors Light Thirsty Thursdays, and $1 Menu Family Sundays, so they're a summertime outing for the whole family to enjoy! Buy yourself some peanuts and Cracker Jacks, and head out to the old ball game.
Every Friday this month from 6 to 8:30pm, you can enjoy free live music performances at King's Beach on Lake Tahoe's North Shore. Attendees can also savor food from local vendors and sample beer brewed with pure Lake Tahoe water! So bring a beach chair or blanket, and grab a seat in the sand early to enjoy this great summertime event series.
Hot August Nights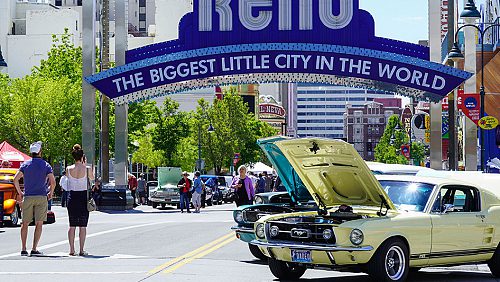 Hot August Nights is the largest classic vehicle and nostalgia event in the country, and it's right around the corner! Starting August 2-3 in Virginia City, Hot August Nights continues in Reno and Sparks August 5-11. Join us at the Peppermill on Monday, August 5 from 12-10pm for our Official Kick-Off Party; the streets come alive with vibrations and noise as the classic specialty cars from the 50s, 60s, and 70s start cruising. Additionally, the vintage cars are accompanied by some can't-miss entertainment this year, including Pablo Cruise, Don Felder, and KC and the Sunshine Band.
Every hump day now through August 29, visit the consistent summer hit, Feed the Camel. Set across from the beautiful Truckee River, this weekly food truck bazaar at the McKinley Arts and Culture Center is the coolest way to spend a Wednesday evening. Whether you're a carnivore, a vegan, or an I-eat-everything, take a seat in the grass and enjoy some delicious local food and beer.
With home games on the 10th and 31st this month, you'll want to check out Reno's newest minor league sports team, the Reno 1868 FC. Whether or not you're a die-hard soccer fan, the games at Greater Nevada Field don't disappoint. Cheer on the players as they begin to round out their season, and enjoy a hotdog and an ice-cold drink while you're at it.
Every month, 39 North Downtown holds 3rd Thursday: a family-friendly event featuring a diverse list of entertainment and retail options. An eclectic mix of market and street fair, 3rd Thursday boasts local artisans and food vendors, live music, chef demos and tastings, a free movie, and more. Starting at 4pm in Victorian Square, this farmers' market is much, much more than that.
It's no secret that much of Reno-Tahoe's summertime appeal is owed to outdoor activities. If you're up for more of a challenge than just taking in Tahoe's incredible views from the beach, you may want to consider the XTERRA Lake Tahoe off-road triathlon. The race consists of a 1500-meter swim in the crystal clear Tahoe waters, a 22-mile mountain bike race, and a 6-mile trail run. Certainly an impressive physical accomplishment, this race is also a unique way to see some incredible sights in and around Lake Tahoe. The race is August 17, so register early!
If you love to be outdoors but triathlons aren't exactly your speed, check out the Dragon boat Festival at Sparks Marina instead! Free to watch on August 17, spectators can enjoy this race of beautifully decorated 40-foot canoes, powered by 20 synchronized paddlers each. A spectacle of the world's fastest growing water sport, this is a family-friendly event with plenty to do between races, including vendors, food trucks, artisans, and the Health and Wellness Village!
If you're seeking an afternoon activity for you and your friends, consider heading down to Reno's beautiful Riverwalk District for the August 17 Wine Walk! For $20, you'll receive your wristband, map, and a wine glass, and you'll be on your way to sampling wines from a variety of local businesses. Sample at least 5 wines to be entered into a raffle at Pignic Pub and Patio, and be sure to hang around after the walk for a meal at one of Downtown's many excellent restaurants.
Calling all scallywags and buccaneers! This year's pirate-themed bar crawl is sure to be a great time. Join the hordes of other treasure seekers Friday, August 17, and be sure to get your $10 commemorative cup beforehand at one of a few local shops; free entry, drink specials, hotel discounts, and more are included with your advance purchase. Then don your hats, eyepatches, and peg legs, and sail on over to a few of the more than 15 participating bars!
Virginia City Rodeo and Fiesta del Charro
With all the amazing events planned in Reno and Tahoe this August, you have to be sure not to miss out on all that Virginia City has to offer as well! On August 24-25, giddy on up to the old mining town for its annual Hispanic Rodeo, complete with a long-horn cattle drive, mutton busting tournament, horse dancing, and a street dance with live mariachi music. Pull on your cowboy boots, and you're sure to have a great time at the Virginia City Rodeo and Fiesta del Charro!
No August in Reno would be complete without the Northern Nevadan festival: Burning Man. For one week a year, the desolate (if not stunning) Black Rock Desert transforms into Black Rock City, the third largest city in the state, full to the brim with exceptional costumes, larger-than-life artworks, and diverse characters. And even if you weren't able to score a ticket to the playa this year, you're likely to meet some of the 70,000 people from around the world who did. You'll want to be out-and-about in the days surrounding Burning Man (August 25-September 2), meeting new people; glimpsing wild, handmade art cars; and picking up on some of the vibrant energy flowing to and from the desert.
A local favorite every year, the Nugget's Best in the West Rib Cook Off spans six days and boasts participation from 23 rib cookers from all over the country. The event is free to the public and offers much more entertainment than ribs alone; from August 28-September 2, there will be food, an arts and crafts show, beer garden, kids' carnival, and two live music stages. Located in Victorian Square in Sparks, come on over and chow down on your portion of the roughly 240,000 pounds of ribs that'll be served.