September 2019's Top 15 Things To Do
As we bring summer to a close, be sure to enjoy all that September in the Biggest Little City has to offer! From a balloon race to an ostrich race, the Reno-Tahoe area has no shortage of exceptional entertainment this month. See the ballet, unleash your inner Harry Potter fan, and take a drive for a 100th birthday, this month in Reno!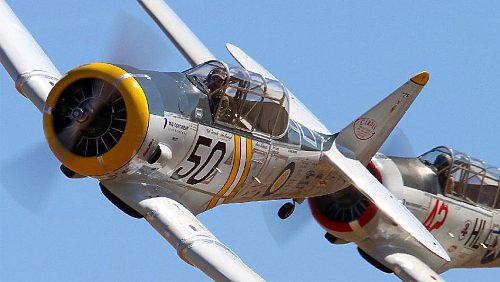 While Burning Man officially ends September 2, many Burners continue the festivities in Reno after the main event in the Black Rock Desert. The Great Depressurization is considered a "mid-way" point between Burning Man and the real world, and is taking place September 1-9. If you didn't visit the playa this year, don't worry! You're still welcome to join in on the festivities, enjoying international musicians and comedians, pool parties, and more.
Beginning in 1982, the Great Reno Balloon Race is now the world's largest free hot air ballooning event. The balloon races are a local favorite, boasting 120,000 spectators annually! There are many separate events September 6-8, and gates open at 3:30 a.m. daily. One of our favorites is the Glow Show, where the balloon pilots coordinate firing up their tethered balloons to music, creating a beautiful pre-dawn lightshow. And once the sun begins to rise, so do the balloons! Don't miss out on this colorful spectacle.
Enjoy an authentic taste of Greek culture September 6-8. Delicious cuisine is accompanied by traditional dances, music, and imports to bring the Mediterranean to Reno. Hosted at St. Anthony Greek Orthodox Church, this festival is a delicious and entertaining event for the whole family, so be sure to stop by!
60th Annual International Camel & Ostrich Races
The historic mining town of Virginia City lights up with the laughter of thousands of visitors every year as jockeys attempt to stay precariously perched on their animals as they maneuver the track at high speeds. September 6-8 is a busy weekend for Reno events, but it's worth the effort when you're guaranteed a good laugh. On Sunday, the first 100 kids to arrive can get a free camel ride, and Friday night there's a special evening performance, Hot Camel Nights.
The 17th Annual Tour de Tahoe is taking place September 8! "America's Most Beautiful Bike Ride" offers riders the opportunity to traverse Lake Tahoe's beautiful 72-mile shoreline from a unique perspective. If the scenery alone doesn't have you sold, there's also great food and entertainment offered along the ride, so pump up those tires and hit the road!
Stihl National Championship Air Races
Held just north of Reno, the National Championship Air Races have soared through the last 53 years with no intention of slowing down. This September 11-15, aviation enthusiasts and daredevils alike can enjoy the sights and sounds of the fastest motor sport in the world. In addition to six classes of races, guests can enjoy an up-close look at the large display of military and civil flight aircraft on the tarmac.
3rd Thursday, Farmer's Market and More
Put on by 39 North Downtown, this month's 3rd Thursday is much more than a Farmer's Market. September 19, head to Victorian Square for food, shopping, art, and plenty of vendors. With festivities starting at 4 p.m., you'll want to grab parking early for this popular street fair/market fusion!
On September 21, join in on this joyous Indian festival in Rancho San Rafael Park! You can celebrate the transformation of the seasons not only with the playful throwing of colored dye powders, but also with Hip Hop and Bollypop, delicious food, yoga, and more. Wear clothes and bandanas that can be stained, bring some sunglasses, and get ready to get colorful! Kids are welcome for free, and the whole family is bound to have a wonderful time at this one-of-a-kind celebration.
Choose your house, grab your friends, and dress up as your favorite witch or wizard for this year's Very Potter Crawl! Anyone over 21 can join the bar crawl, as long as you solemnly swear that you're up to have fun. You won't want to miss out when the Harry Potter world of witchcraft and wizardry comes to life! Purchase your commemorative cup to get access to 15+ downtown bars and fun drink specials, Saturday, September 21.
Hosted by the Ferrari Club of America, Virginia City's annual hillclimb is a joyride worth seeing. An excuse to "drive cars meant to be driven," the event boasts street-legal sport cars of varying makes, models, and years. The tradition takes place September 21-22 on public road that is closed for the event to provide a closely monitored environment for racers. The hillclimb not only offers an adrenaline rush, but also benefits the local high school. So if you've got a well-oiled machine just waiting to burn rubber, register today!
Presented by the A.V.A. Ballet Theatre and Reno Phil, this classic ballet is bound to be a captivating spectacle. Initiating the fall ballet season at the Reno Pioneer Center, Peter Pan, Wendy, and the lost boys will mesmerize the whole family as they explore Neverland. Featuring guest principal dancers, be sure to buy tickets early to this fantastical show, September 21-22!
The streets come alive with a rumbling of sound during the Street Vibrations Motorcycle Festival! This semi-annual event is a local hit, celebrating music, metal, and motorcycles. 50,000 attendees and enthusiasts converge in downtown Reno to enjoy not only the display of incredible machinery, but also the live music, stunt and bike shows, and food and drinks. Lace up your motorcycle boots and hit the streets, September 25-29.
If you've yet to try some delicious street food this summer, make sure not to miss the last Food Truck Friday of the year, September 27! The food trucks in Idlewild Park are a hit every year, and 2019 has been no exception. Let the professionals do the cooking for you this Friday, and treat yourself to some extra downtime with friends or family. This gathering boasts meals for every palette, so bring the whole family, grab some grub, and enjoy Reno's biggest food truck event!
This year's Spartan World Championship returns to the Village at Squaw Valley in North Lake Tahoe, September 28-29. Athletes from over 30 countries will challenge themselves in extreme obstacle courses at over 9,000 feet in elevation! Think you have what it takes to be a Spartan? Added age categories and a simplified process meant here are more chances to qualify than ever before. And if you're looking to cheer on your favorite competitor as a spectator only, you can enjoy food trucks, drinks, giveaways, and more during the events!
Celebrate 100 years of the Candy Dance this fall! This arts and crafts fair draws thousands of participants and attendees every year, and has been doing so since 1919. Located approximately 45 minutes south of Reno, the historic town of Genoa is well worth the drive, even before the vendors and artisans set up shop. Over 300 booths will be selling candy, food, and unique wares, September 28-29!
Photo c/o Visit Reno Tahoe