The Reno Rodeo and Barbequing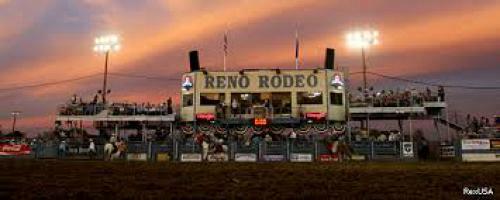 Nevadans loves them some Rodeo. And I don't mean in an artificial, highlight-of-the-evening being a commemorative beer mug filled with half eaten stadium peanuts. I mean in the authentic, showing up in well warn Wrangles, dusty boots, and crisp looking cowboy hats – taking-no-grit-kind-of-way.
The being said, the Wildest, Richest Rodeo in the West is officially upon us, and in order to get in the western spirit you must first eat like one and that means BBQ. So fire up that grill and set those western style ribs and sauced tri tip ablaze.
To help you on your way to barbequing greatness, we turn this blog over to Peppermill's Executive Chef, Mark Lund for some barbequing tips in mastering the technique with one of his own masterfully created BBQ recipes.
The Pitmasters Basic Recipe with Tips and Techniques
INGREDIENTS:
Barbeque Rub
Paprika 3/8 Cup
Chili Powder 1/8 Cup
Brown Sugar 3/4 Cup
Kosher Salt 3/8 Cup
Oregano 1/8 Cup
Black Pepper 1/8 Cup
Ground Thyme 1/8 Cup
Garlic Powder 1/8 Cup
Sugar 1/8 Cup
Ground Mustard 1/2 Cup
Cayenne Pepper 1/8 Cup
Parsley Flake 1/8 Cup
Ground Coriander 1/8 Cup
Mustard Wash
Beer 1 Cup
Spicy Mustard 1 Cup
Brown Sugar 1 Tablespoon
Kosher Salt 1/2 Teaspoon
Black Pepper 1/2 Teaspoon
Honey 1 Tablespoon
Basic Mop
Beef Stock 2 Cup
Lemon Juice 2 Cup
Salt 1/4 Teaspoon
Rub 1 Tablespoon
Vegetable Oil 2 Cup
Honey 1 Tablespoon
Soy Sauce 2 Tablespoon
METHOD:
First, pick out a piece of meat that you enjoy eating and works well with cooking at lower temperatures. Tip: Traditionally, BBQ involves cooking less tender pieces of meat such as brisket, ribs, shoulder, and butt. You may also wish to purchase charcoal made from wood, along with flavored wood chips or chunks to add more of a kick to your meat.
The evening before you BBQ, remove any packaging from your meat and place it on a rack or grate before returning it to your refrigerator to dry overnight.
The morning of your BBQ, quickly soak the wood chips in water or your favorite cocktail beverage.
Next, pull the meat from your refrigerator and set aside.
Pull out two non-reactive bowls and combine the ingredients for the barbeque rub and mustard wash. Mix thoroughly until both are well incorporated. Tip: You may want to add additional flavoring components, such as, horseradish powder, lemon peel, and/or celery seed to give the rub and wash additional characteristics.
Use the mustard wash to coat the entire piece of meat, then moderately coat the meat with your rub, before placing back in the refrigerator for up to two hours. The wash should be thick as it will be the ingredient that holds the rub to the meat.
Once the meat is fully marinated, fire up your charcoal grill with the wood briquettes.
Place the meat on the grill, and cook at a temperature range from 220-240 degrees Fahrenheit. Tip: You can periodically add the moistened wood chips over the coals to give an additional smoke flavor.
Once the meat is on the grill, brush on the basic mop about half way through the cooking process and then again as needed to add that extra secret flavor to your BBQ and keep it from drying out.
Remember- Low and slow is the way to go. Make sure to frequently wash your hands and utensils, especially after handling raw or undercooked meat. Cook meats to the recommended safe temperatures.
Photo credit: visitrenotahoe.com