March's Top 15 Things to Do in Reno
Celebrate the start of spring this March in Northern Nevada. Reno-Tahoe hosts a variety of indoor and outdoor events to help you shake the winter blues, whether you enjoy farmers' markets, distinctive food and drink events, or live art performances!
Every Saturday through May, check out Reno's only year-round farmers' market! Hosted at the McKinley Arts and Culture Center, the Riverside Farmers' Market brings together a great selection of local produce, meats, honey, and more. Peruse the market, meet the farmers, and enjoy the spring weather, March 7, 14, 21, and 28.
International Women's Entrepreneurship Symposium
The College of Business at the University of Nevada, Reno presents the 2nd annual International Women's Entrepreneurship Symposium. Organized to encourage networking among attendees and provide space for meaningful conversation regarding women-founded companies, the event brings new ideas on entrepreneurship to Reno. Engage with more than 25 speakers over the course of this 2-day event, March 9-10.
Reno Little Theater presents its newest play, The Imaginary Invalid, March 13-29! Laugh your way through the journey of a hypochondriac and his million imaginary ills, watching as he concocts a plan to marry his daughter to a doctor in the hopes of receiving free medical care. Reno Little Theater offers fun promotions like Thirsty Thursday and after-show cast discussions, so be sure to check their website for a full schedule.
March 14, indulge in some delectable treats with Reno's Taco & Margarita Crawl! Lovers of all things spicy and salty are bound to have a fun time exploring local offerings. Get in the springtime swing with this creative take on the standard crawl! Tickets must be purchased in advance, and a full list of participating establishments will be available before the event.
29th Annual Rocky Mountain Oyster Fry
Virginia City takes pride in its quirkiest events, and the annual Rocky Mountain Oyster Fry is no exception! More than 7,000 revelers visit the old mining town over St. Patrick's Day weekend to crown the best "oyster" cook in the West. Dress in your most outlandish green gear March 14 and wash down all your samplings with the Ball Breaker Saloon Crawl, where your cup grants you one free beer and a variety of samples from many participating bars!
Reno Leprechaun Crawl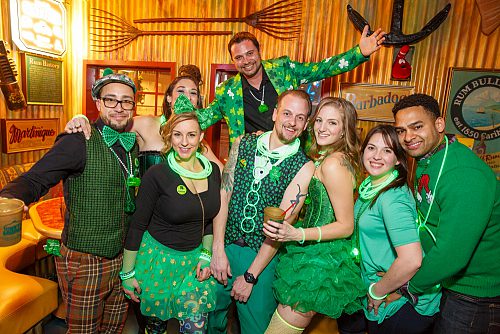 Whether or not you have the luck o' the Irish, don't miss your chance to participate in one of the country's largest bar crawls! The Reno Leprechaun Crawl takes place the night of March 14, and thousands of revelers will take to the streets in outlandish green costumes. Purchase your official crawl cup beforehand for free cover and discounted drink specials at more than 20 participating locations, free giveaways, and more!
Can you beat the leprechaun in this festive 5K, March 15? Run or walk, but know that there is a speedy, green leprechaun right on your tail! For each participant that the leprechaun passes, proceeds are added to the "pot of gold" benefiting The Discovery. Registration ranges from $25 to $35, and includes a personalized race bib, a complimentary beer, live musical entertainment, and much more.
Calling all college basketball fans! Introducing Hoops Hysteria, Peppermill Resort's brand new $15,000 Pick'Em Contest! March 19-21, pick the winners of the first 32 games of the college basketball championship for a chance to walk away with your share of the cash! Over 200 winners will be chosen, do you have what it takes?
International Day of Happiness Virtual Race
No matter your activity level, take part in the International Day of Happiness virtual walk or run, March 20! Celebrating the United Nations' International Day of Happiness, enjoy an endorphin boost with friends and family, and support a good cause! Choose your distance, pick your favorite indoor or outdoor run location, and raise awareness for the importance of happiness in the lives of people around the world. Your medal will be shipped to you upon completion of your chosen event, and 15% of proceeds will benefit the All Hands and Hearts organization.
Start your engines! The Reno-Sparks Livestock Events Center comes alive March 20-22 with the thunderous sounds of truck engines at this year's Monster Jam. Don't miss custom trucks like El Toro Loco, Grave Digger, Megalodon, and Scooby-Doo as they flip, race, and freestyle around the track.
Reno Phil Classix Series: Scheherazade
Next in the Reno Philharmonic's Classix Series is Scheherazade, to be performed by Juilliard graduate pianist Andrew von Oeyen, March 21-22. The concert of Rimsky-Korsakov's most popular work is completed by Liszt's Piano Concerto No. 1, and creates a kaleidoscope of fairytale images and story-telling moods.
Circus 1903 opens March 21 and is the Eldorado's new resident production portraying the golden age of circus. Audiences of all ages can experience over-the-top grandeur and daredevil thrills, unlike any seen in the last 100 years. Visit the Eldorado website for tickets and a full list of showtimes.
WinterWonderGrass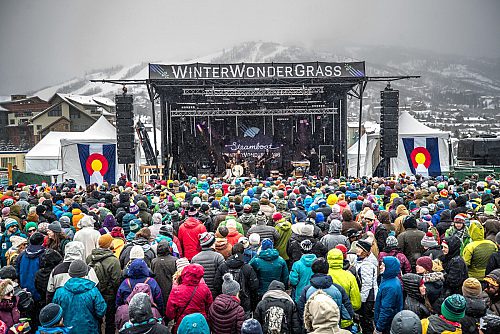 Music, brews, and views await at Squaw Valley's annual Bluegrass music festival, March 27-29. Enjoy a heightened experience with three days of world-class Bluegrass and Acoustic Roots performers across four stages, all surrounded by snow-covered peaks. California and Nevada craft breweries will be offering tastings throughout 4 separate beer halls, and there will also be daily tea and cider samplings, heated VIP areas, cocktail bars, and lift ticket discounts for the ski resort!
From the mind of three-time Tony-winner and Hamilton choreographer Andy Blankenbuehler comes this inspiring American musical. Upon returning from war, Private First Class Donny Novitski sees a lifeline for himself and a unique collection of veterans in a national musical competition. March 27-29 at the Pioneer Center, Bandstand will come to life with infectious music and high-octane dance numbers.
With a portion of proceeds benefiting local non-profits, a Night out in Reno promises to be a colorful, dynamic event. Described as Reno's first black tie creative event, March 28 will be a night full of exciting dance performances, cirque acts, and delectable food and drink. This creative benefit features unique live entertainment, dance parties, games, and more, and all adults ages 21+ are welcome.