November's Top 15 Things to Do
November in Reno is the perfect time to enjoy the autumn weather before the snow begins to fall. Enjoy some wine, see a play, run a 5K with your family—or do all three—this month in Reno-Tahoe.
Tahoe Chocolate and Wine Festival
You've got the golden ticket! There are few combinations on earth more delicious than chocolate and wine, and the Tahoe Chocolate & Wine Festival allows you to indulge your cravings while supporting a host of great causes. This year's event takes place November 2 and follows the theme of "Pure Imagination: Dreams That Do Come True," where Willy Wonka-esque and imaginative cocktail attire are encouraged! So let out your whimsy and enjoy a delectable night out in Tahoe.
Synonymous with one-of-a-kind family entertainment, the world-class talent of the Harlem Globetrotters will pass through Reno November 6! The male and female basketball stars of the Globetrotters are committed to bringing fans an electrifying performance, full of fan interaction. Great fun for kids and kids at heart, don't miss the spectacular showmanship of the Harlem Globetrotters game, here for one night only!
Fans reign supreme at the 3-day extravaganza of Reno's Pop Culture Con! Hundreds of hours of fandom panels, celebrity appearances, and special events are all included with the price of admission. A host of voice actors, film actors, authors, comic book writers, and more will all be in attendance! There will also be gaming and the Pop Culture Con Kid's Lab, where everyone in the family will have a great time. Join in and geek out, November 8-10.
Featuring violinist and Davidson Fellow Oliver Leitin, the Reno Philharmonic's Enigma Variations will leave you in awe. Showing November 9 and 10 at the Pioneer Center for the Performing Arts, Leitner will be performing Chausson's rhapsodic Poème, an exquisite, lyrical showcase for the violin. Beginning with a haunting theme and followed by variations on it, music lovers will enjoy musing over the "enigma" referenced in the classic work.
To honor all those who have fought and sacrificed for our country, the Reno Veterans Day Parade will begin at 11:11 a.m. on November 11. The traditional opening ceremony includes a fly by, and will be followed promptly at 11:20 by the start of the parade. Formerly Armistice Day, the Veterans Day Parade will take place on Virginia Street between 1st and 5th Streets, and spectators are encouraged to come out and show their support for our troops, both veterans and active service members.
Squaw Valley Resort Opening Day
It's time to break out your gear, the 2019-20 ski season is upon us! Squaw Valley Alpine Meadows is slated to open Friday, November 15, weather and conditions permitting. Be the first to hit the slopes this season, and enter for your chance at some rad giveaways while you're at it. Tahoe boasts some of the best ski resorts the world over, so a chair ride up the mountain is never a bad idea.
The Humans 11/15-12/1
The Humans is the 2016 Tony-award-winning drama for Best Play, and tells the story of the Blake family Thanksgiving. Written by Stephen Karam and described by the New York Times as "blisteringly funny, bruisingly sad, and altogether wonderful," this play exposes the heart and horrors of one family over the course of their Thanksgiving dinner. This play will show at the Reno Little Theater on select dates, November 15-December 1.
Save up to 90% off retail prices on gently used and new items at this year's Just Between Friends sale. An exceptional place to buy and sell toys, clothing, furniture, and more, JBF offers a less expensive option to new parents, teachers, foster parents, and more. Opening November 15 and continuing through the 17th, all goods leftover at the end of the event will be donated to the Casa de Vida nonprofit corporation. Additionally, admission fees go to the Women and Children's Center of the Sierra, so you can truly shop for a cause at JBF!
Nothing compliments fall weather quite like sipping wine with good company and walking through fallen leaves. Saturday, November 16, the Downtown Reno Wine Walk kicks off and is sure to give you a glass-half-full mentality. Not only will you get to enjoy delicious vino, but a portion of the proceeds of this monthly event benefit local charitable organizations. Over the last 5 years, event organizers have donated more than $100,000! Sample any wine at more than 20 locations, and get your own hand-painted wine glass, all for $20.
The Nevada Museum of Art's newest installation, Decorative Arms, opens November 16 and will run through February. A fascinating display of embellished firearms, some of which have never before been publicly displayed, visitors will be awed by the level of craftsmanship involved. The design process involves collaboration among sculptors of steel and wood, goldsmiths, silversmiths, and engravers. Don't miss your chance to view these unique canvases!
Make Your Magic. There's no better way to watch the iconic characters of Sesame Street than live on stage! Join Elmo, Big Bird, and the rest of the gang on the adventure of a lifetime. One night only, November 26, bring the kids to Sesame Street for high-energy dance numbers and a soundtrack that's sure to get everyone out of their seats. This inspirational introduction to live theater and the art of illusion will be an experience kids won't be soon to forget!
Wobble Before You Gobble 11/28
Warm up before chowing down this Thanksgiving. Benefitting the Children's Cabinet, Wobble Before You Gobble is a great way to start your morning! This beautiful 10K, 5K, or 1-mile run/walk/wobble is a great family event, starting at 9 a.m., November 28, in City Plaza in downtown Reno. The wobble follows the Truckee River through Idlewild Park before heading south to the finish line. Enjoy your day off and spend some time outside at this year's Wobble Before You Gobble event.
Scheels Turkey Trot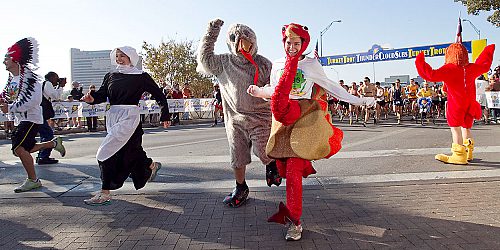 Before you engorge yourself with turkey and stuffing, get active at the Scheels Turkey Trot November 28 in Sparks! This event features events for various activity levels, including a 10K, 2-mile walk, and 2-mile run. Burn some calories to make room for dinner, all while benefitting non-profits in our community. This Thursday morning event is a fun and unique way to spend some family time this Thanksgiving.
From a Tony and Academy Award-winning songwriting team comes A Christmas Story the Musical. We all know the classic 1983 movie, and you won't want to miss the hilarity brought to life! Nominated for three Tony Awards, this heart-warming, joyful play will be a hit with the whole family. Opening November 29 and running through December 1, you'll likely want to purchase your ticket in advance to guarantee your seats for this limited Pioneer Center performance!
Go Pack! Every time the Rebels come to Reno, the resulting game is a rivalry-fueled rush. This year the battle for the Fremont Cannon, the largest trophy in college football, promises to be a great event for the whole family. The in-state rivalry game on November 30 also happens to be the season-finisher, so don't lose your chance to support the Pack one last time in 2019. Don your silver and blue, get your cheering voice ready, and we'll meet you at Mackay!