Wedding Bells and Bites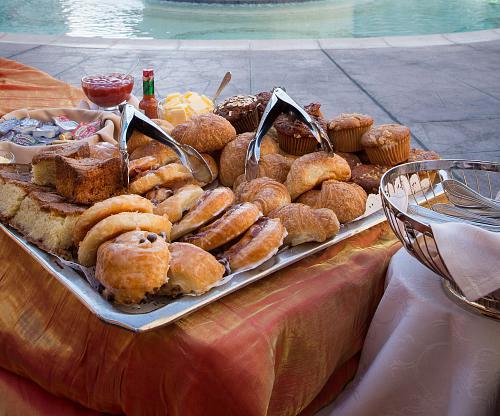 There's a creative trend hitting the wedding scene, one that favors bites over dishes, appetizers over courses, and mobility over being forced to sit next to crazy Aunt Susan all evening.
As this trend becomes more and more popular in the wedding arena, our Wedding Department is finding the options and creativity for appetizers are limitless. And we don't mean to brag, but The Peppermill has developed quite the amazing catering menu for such "appetizer only" requests.
Check out the top 20 guest favorites in our wedding appetizer menu for this creative twist on the traditional, this brave new voyage into the limits of what can be considered "wedding food," and go where no bride has gone before… other than the ones that have gone before you. Get great tips from The Peppermill's Catering Manager, Nicole Parker on ways to showcase these appetizers in a fun and festive fashion, as well as what different appetizer offerings can do for you on your special day.
Brunch Bites - for that early morning wedding and reception:
Chilled Yogurt Parfait Bar with Granola, Fruit and Berries
Heirloom Tomatoes, Fresh Mozzarella, Sweet Onions, and Balsamic Syrup
Almond French Toast Bites and Vanilla Maple Syrup
Croissant Breakfast Sandwich
Pecan Sticky Buns
"This category is great for spontaneous weddings, small groups, and especially for outdoor receptions. Not many opt for a morning ceremony which opens up the floor for the impromptu couple."
Appetizer Themes – a new take on the new take of appetizers:
Salty & Sweet: Cookies, Brownies, Pretzels, and Potato Chips.
At the Movies: Popcorn, Cracker Jacks, and Candy Bars.
The Hot Tamale: Tortilla Chips, Queso Cheese, Jalapenos, Salsa, Sour Cream, Guacamole, and Dulce De Leche Churros.
"With this menu option, it's fun to bring out appetizers in succession like after a couple hours of dancing, once everyone has eaten dinner and had cocktails. We've actually done a popcorn machine, then hot cookies, and mini burgers about two hours after dinner, and once the dancing crowd had slowed. It was a huge hit!"
Lunch and / or Dinner Bites:
Hot Items:
Chicken & Waffle Croquettes
Empanadas
Chicken Lollipops with Sweet & Spicy Pepper Jam
Pork Pot Stickers with Chili-Soy Dipping Sauce
Cold Items:
Garlic Bruschetta with Roman Tomatoes and Basil Chiffonade
Asian Chicken Salad in Sesame Cones
Ahi Poke Salad in Sesame Cups
Tomato and Boursin Cheese in Mini Bouchees
"This option is for the couple that wants a little bit of everything. The key to keep in mind with this type of menu though, is a little bit goes a long way."
Action Stations Menu:
Shotgun Sushi: Nigari, Sashimi, Maki.
Fried Potato Station: Tater Tots, Sweet Potato Fries, and Waffle Fries.

Toppings: Hot Cheese Sauce, Hot Chili and Beans, Aioli, Ketchup, Malt Vinegar, Ranch, and Hot Gorgonzola.

Street Tacos: Marinated Grilled Beef, Grilled Chicken, Shredded Beef or Pork Carnitas.

Toppings: Warm Flour Tortillas, Shredded Cheese, Jalapenos, Lettuce, Tomato, Cilantro, Picked Cabbage, Sour Cream, Pico de Gallo, and Guacamole.

Mac and Cheese Station: Macaroni with Choice of Sauces: Jack Cheese, Roasted Corn and Black Beans, Cheddar Cheese and Bacon.

Toppings: Southwestern Chicken, Red Wine Braised Beef Rib, Scallion, Truffle Fountain, Lobster and Shrimp Scampi.
"Presentation with any type of dish is always key, but especially with appetizers. This option kind of blurs the line between main food dishes and bites. It can go whichever way the couple wants it to. The Peppermill's chefs are trained to perform the finest presentation to impress and entertain our guests which combines food and entertainment with this menu, as the food is cooked and presented in front of each guest. This option is also popular because each item of food or dish is customized for the person ordering it."