What is CrossReno?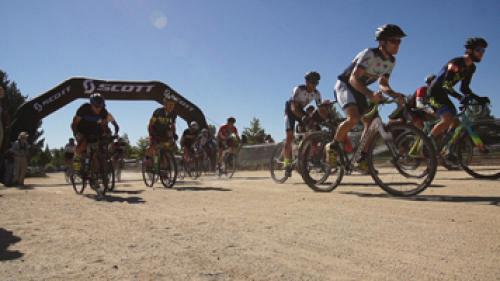 The CrossReno event and festival is riding into Reno! A major USA Cycling-sanctioned cyclocross event, the daylong CrossReno will take place Saturday, October 1, 2016 in Rancho San Rafael Park. This year's event cranks its festivities up a notch in its second year by not only attracting top-level cyclists, but outdoor enthusiasts of all kinds. CrossReno offers a glimpse into the Northern Nevada lifestyle with live music, a kids zone and a craft beer garden highlighting selections from local and regional breweries.
To many observers and participants, cyclocross is organized chaos with some crazy thrown in. Cyclocross bikes look like road bikes with larger tires, and the track terrain is similar to something one would ride on with a mountain bike or an ATV. Racers may come from road racing, mountain bike racing or, in more recent years, be specialists focused solely on cyclocross.
Of all the cycling disciplines, cyclocross is the most spectator-friendly. Unlike other cycling events, spectators can pretty much see and access all parts of the race course contained in one place, which is usually on public park grounds. The cyclocross courses are closed circuits with fun, challenging and punishing man-made and natural obstacles and barriers.
In most cases, race officials wait to see how quickly riders complete the first lap before deciding how many total laps will be completed. Courses are twisty circuits and typically, but not always, include barriers, as well as other features that will necessitate hopping both off and back onto your bike. With very few exceptions, barriers are small enough for everyone to safely run through. Those brave and skilled enough can hop their bikes right over some of the obstacles. Often times, there are hills, sand pits and muddy sections that are too difficult or slow to ride, and bringing a racer to shoulder their bike and run with it.
CrossReno offers professional racers a national ranking event and gives amateurs a chance to rub elbows with nationally and internationally ranked pros fresh from CrossVegas. There are separate categories for master racers and juniors, as well as a kids race for the youngest competitors. Pro riders will compete for a $10,000 purse, to be split evenly and paid out to the top 10 places for both men and women. Amateur racers will compete for more than $5,000 in cash prizes and other goodies. As a bonus, racers will get a preview of the 2018 USA Cycling National Cyclocross Race Venue, which will take place in Reno for the first time.
"CrossReno is a really special event," explained Teal Stetson-Lee, professional cyclist for SCOTT-3 Rox Racing and Race Director and Vice President of Operations for ShadowIndustries, the event promoter. "Cyclocross is a more spectator-friendly cycling discipline, and the combination of the festival and the race makes CrossReno a great way to experience what Reno has to offer."
This family-friendly event offers activities for kids and adults alike. Kids can take part in a free safety and skills clinic and receive a full hour of fun, interactive instruction from professional mountain bike racer Trevor DeRuisé, as well as members of the Reno Tahoe Junior Cycling team. Activities like rock wall climbing, bounce houses and face painting will also take place free of charge during the festival, with any donations benefiting Ride 2 Recovery.
Local food trucks will bring a variety of tasty snacks and delicious meals to CrossReno throughout the day. Partners were chosen based on quality of ingredients, innovation and taste, and include food trucks like Nom Eats and Battle Born, along with many other local favorites.
The adult crowd can enjoy a craft beer garden that will showcase craft beers from the region served by the brewers themselves. Participating breweries include Lagunitas Brewing Company, Alaskan Brewing Company, 21st Amendment Brewing Company, Founders Brewing Company, The Brewer's Cabinet, Under the Rose Brewing Company and High Sierra Brewing Company.
The festive mood continues with live music playing throughout the event. Entertainment will include live headlining acts as well as DJs to keep the good times going.
"We want race fans to heckle and cheer the racers as they navigate the courses and obstacles," said Michelle Quevado, Race Director and CEO of ShadowIndustries. "It's not considered rude, it's a cyclocross tradition and very well received by racers. So bring your cowbells, other noisemakers and a lot of enthusiasm. The course is more condensed this year, making it easier for spectators to participate."